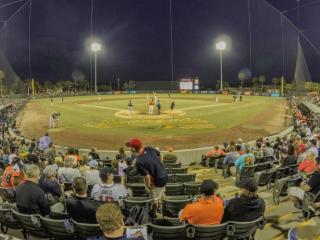 Two MLB teams call this destination on Florida's Gulf Coast their spring training home: the Baltimore Orioles and the Atlanta Braves.
Spring Training in sunny Sarasota brings not one, but two MLB teams to our little slice of heaven, making Florida's West Coast the best coast for watching as many MLB games as possible. Eight Grapefruit League teams reside along the Gulf of Mexico, and the Atlanta Braves made it nine when they moved their offseason activities to Cool Today Park in Wellen Park (North Port) in 2019.
10 Seasons in "Birdland South"
2019 marked The Baltimore Orioles 10th spring in Sarasota, when they welcomed their one millionth fan to Ed Smith Stadium!
Often referred to as "Birdland South," Ed Smith Stadium hosts major league Spring Training and the combined complex, which includes the Buck O'Neil Baseball Complex at Twin Lakes Park, features all of the ballpark amenities to make any athlete feel like they're in the big leagues. This major league facility features an 8,000-seat stadium, four additional onsite training fields with one practice half-field, five offsite training fields, a clubhouse and covered batting cages and pitching mounds.
Click here to view the Orioles detailed Spring Training schedule.
Bring on the Braves
For over 70 straight years, the Atlanta Braves organization has played their spring ball in Florida. In 2020, the Braves permanently traded their Spring Training home at Disney's Wide World of Sports for a brand new state-of-the-art complex in North Port's Wellen Park, a master-planned community in south Sarasota County.
Cool Today Park can fit over 7,000 fans and include outfield patio and bar areas. The Public Plaza and multipurpose fields outside the stadium are available for events such as farmers markets, art shows and more when there are not Atlanta Braves activities.
Click here to view the Braves Spring Training schedule.