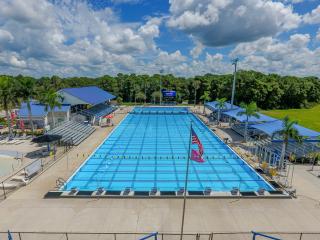 Selby Aquatic Center is one of the nine sites selected by USA Swimming to host this championship event.
USA Swimming has named Sarasota County, Fla, as one of the nine host locations for the 2020 Toyota U.S. Open Championships Nov. 12-14, 2020. Selby Aquatic Center, operated by the Sarasota Sharks, will serve as the competition venue.
The long-course meter event will welcome a high caliber of competition and more than 1,800 athletes will be competing asynchronously across the nation. The competition in Sarasota County will host roughly 150 males and female swimmers. Athletes may include current U.S. National and National Junior Team members, such as local Sarasota Sharks and U.S. National Champion Emma Weyant, as well as other highly ranked swimmers from universities across the state.
"We are extremely excited about this opportunity. This event will showcase the beautiful Selby Aquatic Center and the wonderful relationship between Visit Sarasota County, Sarasota County and the Sarasota Sharks," said Brent Arckey, head coach and CEO of Sarasota Sharks. "This event will attract the nation's best talent and help prepare them for the path to Olympic Trials and hopefully to the Olympic Games."
In hopes to limit travel for athletes, the once single event location has been spread to nine locations including Beaverton, Ore.; Des Moines, Iowa; Greensboro, N.C.; Huntsville, Ala.; Indianapolis, Ind.; Irvine, Calif.; Richmond, Va.; San Antonio, Texas; and Sarasota, Fla. Sarasota County sits as the southernmost site and holds one of the two outdoor competition facilities.
"This event will be a fantastic component to Sarasota County's road to recovery due to the pandemic," said Shelby Connett, director of sports at Visit Sarasota County. "While the number of attendees will be manageable, the national exposure of Selby Aquatic Center will nicely position us to host future high caliber swim meets."
In an effort to provide the utmost secure environment for athletes and spectators, Sarasota Sharks are working closely with local health officials and Sarasota County staff to configure a plan that abides by both USA Swimming's standards of COVID-19 sport safety, and Sarasota County's guidelines.
"While we are excited to host this event, we want to remind everyone that Sarasota County takes the safety of athletes and spectators very seriously. Working in partnership with USA Swimming, Sarasota Sharks and Visit Sarasota we will work to provide a safe environment for athletes to compete in," said Nicole Rissler, director of Sarasota County Parks, Recreation and Natural Resources.
The event will be livestreamed from the Irvine location on usaswimming.org and a one-hour broadcast will air on NBC 3-4 p.m. Sunday, Nov. 15. For more information about the event in Sarasota County, visit www.sarasotasharks.org.