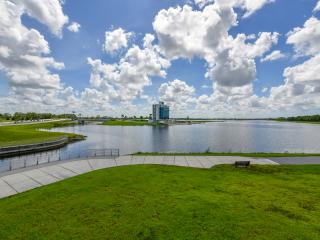 A variety of international softball, rowing, and BMX teams have selected Sarasota as a training locale prior to heading to Tokyo.
FOR IMMEDIATE RELEASE
Media Contact: Shelby Connett, 941-955-0991 Ext. 114, [email protected]
SARASOTA, Fla. (March 2021) – Sarasota County is quickly becoming an important stop on the road to Tokyo ahead of this year's Olympic Games, set to begin July 23, 2021. In addition to hosting various qualifying events, the destination will host numerous team and individual athletes for training sessions as they prepare to compete on the world stage.
The U.S. Olympic Team Trials – Rowing, which occurred February 22-26, kicked off the qualifying events. Up next are the U.S. Olympic Team Trials for Canoe/Kayak Spring, occurring March 19-21, 2021 at Nathan Benderson Park.
A variety of international softball, rowing, and BMX teams have selected Sarasota as a training locale prior to heading to Tokyo. The region's elite venue offerings, existing sports programming, and community support are some of the attributes that make it an attractive option for teams.
"We are thrilled to welcome some of the world's top athletes back to Sarasota County as they prepare for one of the most memorable experiences of their lives," said Shelby Connett, director of sports at Visit Sarasota County. "Hosting these events and training sessions not only contributes to our region economically, but also expands Sarasota's exposure as an ideal sports destination."
At Nathan Benderson Park, Suncoast Aquatic Nature Center Associates, Inc (SANCA) is staying in the heart of the action when it comes to rowing and canoe/kayak.
"The park is proud to be a part of the Olympic tradition and welcome these top athletes to our community and our park," said Tomas Herrera-Mishler, president and CEO of Suncoast Aquatic Nature Center Associates. "We love sharing our top-of-the-line racing facilities with these amazing competitors as well as providing our own community's residents and visitors with many opportunities to learn and practice aquatic sports in near-perfect conditions."
Canoe/Kayak: The 2020 United States Olympic Trials for Canoe and Kayak Sprint will be held at Nathan Benderson Park (NBP) on March 19-21, 2021. The American Canoe Association (ACA) organized this three-day competition, which has been rescheduled from 2020. Immediately following this event, ACA will host an Olympic training camp for the selected team, also occurring at NBP.
Rowing: Nathan Benderson Park (NBP) held the 2020 U.S. Olympic Team Trials - Rowing with more than 120 athletes in 93 boats competing during the five-day event from February 22-26, 2021. Olympian hopefuls were on the water training at NBP weeks leading up to the competition, too. Kara Kohler, winner of the women's single sculls final, secured the only Olympic Team spot awarded at this event.
For more information, please visit https://www.americancanoe.org/events/EventDetails.aspx?id=1485106
Softball: The Florida Gulf Coast League will host Team Canada and Team Mexico in its summer league. Team Canada will be playing four games between July 3- 4, 2021 at the Miss Sarasota Softball complex.
Team Mexico will play a six-game series against FGCL Softball teams June 22-27, 2021, while training locally and hosting a softball camp.
"The Florida Gulf Coast League, the first, premier collegiate fastpitch league, is very proud to host, along with the county of Sarasota, the 2021 Olympic national teams as they prepare for the summer games in Tokyo, to compete against our collegiate teams right here in downtown Sarasota," said Ryan Moore, executive director of the FGCL.
Over 400 athletes, including Olympians, will be training in the destination with FGCL this summer.
"The FGCL as a whole, is humbled by the opportunity to compete against these great professional athletes on the world stage," said Moore. "We couldn't be more thrilled for this opportunity for our collegiate athletes, our organization and our community."
Visit fgclsoftball.com for the full schedule.
Cycling (BMX Racing): Sarasota BMX is one of only a handful of tracks in the United States that features dual 8- and 5-meter start hills. Because international racing rules require an 8-meter start, future Olympians are especially interested in training at tracks with this asset. This spring, Sarasota BMX has hosted the Colombian and British national teams for extended training sessions and anticipate additional bookings in the coming months.
"Being able to host multiple USA BMX National Races, some of which included international racing, over the past three years has really helped to put Sarasota BMX on the map with international riders. We are excited to welcome these high-caliber athletes to come experience our world-class track before they head to Tokyo," said Jonathan Doty, president of Sarasota BMX.
About Visit Sarasota County
Visit Sarasota County leads and supports the tourism industry in Sarasota County by providing the highest quality, and most innovative, marketing programs and promotions to ensure the continued growth of tourism and travel from visitors around the world. It is the mission of VSC is to make Sarasota County the must experience destination on Florida's Gulf Coast. To learn more, visit VisitSarasota.com.
###